Every successful online business starts with an idea. Luckily, there is no shortage of great ideas, many of which I'll share in this article.
However, as I'll show you, some ideas are better than others, and the best idea for you is unlikely to be a good fit for others.
This article aims to expose you to a wide range of online business and monetization opportunities while providing guidance for narrowing down, selecting, and validating a business idea before pursuing it.
Article Contents
If you haven't already, check out my last article: How to Start an Online Business [10-Step Roadmap to Thrive], for a high-level overview of how to succeed online with your business.
Business vs. Monetization Ideas
A business idea is a niche or topic you might pursue to build your company. Photography, cooking, horse riding, guitar, and lawn care are examples you might consider.
On the other hand, monetization ideas are methods for making money, such as running ads, participating in affiliate programs, selling a product, or offering a paid service.
If you're starting an online business, both are necessary to consider, but I'd recommend you focus on selecting a business idea first. Once you nail it down, monetization opportunities will be crucial to evaluate and implement to ensure you're building a profitable business.
50 Online Business Ideas
When thinking up an idea for your online business, the sky's the limit. To help you select one that resonates, I've pulled together a high-level list of ideas for you to browse and get the creative juices flowing.
Of course, each of these broader ideas is the tip of the iceberg, so I'd encourage you to dive into the sub-categories of any that pique your interest to find one you might be willing to build a business around.
To help in your exploration, I've linked relevant Wikipedia outlines and lists that provide additional ideas for you to consider.
Apparel
Beauty
Culture
Drinks
Fashion
Home
Hospitality
Industrial
Leisure
People
Productivity
Reference
Shopping
Society
Software
Travel
Tutoring
For some tips on narrowing down an idea for your business and setting yourself up for success, jump to my essential idea considerations.
13 Monetization Ideas
When building an online business, the ultimate goal is to make money, so it's helpful to gain an awareness of all the ways you can accomplish the task. Unfortunately, many businesses fail to recognize the breadth of possibilities and leave revenue on the table.
To prepare you for running your online business, I've compiled a list of some of the most lucrative monetization opportunities. Although they may not all apply to your business idea, it's beneficial to understand the existing options to maximize your earnings.
1.) Run Ads
Advertising is far and away one of the most popular methods for monetizing online businesses. The concept is simple. Advertisers are willing to pay you for showing their ads to visitors on your website. The more traffic you generate, the more you earn.
Initially, it's not a high-paying way to make money online because it takes time to build an audience, but as your traffic grows, it can become a meaningful revenue stream that supports your business.
Most people begin running ads with Google Adsense, which is fine to start as it's a relatively easy program to access. However, more lucrative services are available once you hit certain traffic thresholds, so you'll want to level up your ad partner as you grow.
Here are four ad services you should know:
You'll need to publish a few pieces of content on your website before you're eligible to run ads, but it's low-hanging fruit when it comes to earning money online and requires minimal effort to put in place.
I get it if you're not a fan of website ads. In many cases, they're grossly overdone, making it hard to use websites. However, you can still run ads and offer an excellent user experience, so I'd encourage you not to write this opportunity off without at least giving it a try.
2.) Participate in Affiliate Programs
Affiliate programs allow established businesses to gain exposure to new audiences by offering relevant websites and content creators a commission for referring new customers. Generally, affiliate programs pay commissions when a specific action occurs, like a sale.
Links are the backbone of affiliate programs. When you participate, you'll receive special links unique to your businesses, which you can use within articles or content you create that reference the products or services that affiliate partners offer. For example, if you were to review one of your favorite products, that's an excellent time to use an affiliate link to earn a commission if visitors click through and buy.
When a visitor clicks through your links, the destination website sets a cookie (a small text file for tracking) and logs that they came from your website so that the affiliate system attributes any activity to you. The duration the cookie persists for giving you credit varies per program. It can be as short as 24 hours or significantly longer, such as 90 days. For you, the longer, the better, as it means you have a higher likelihood of receiving credit for the referral and earning a commission.
Regarding commissions, they're usually a fixed dollar amount or a percentage of the sale, but like cookie durations, the amount varies widely depending on the program. For example, some programs will offer a small 1% commission, while others will offer high double-digit commissions that exceed 50% of the sale.
Amazon Affiliates is the internet's most popular affiliate program. It's easy to sign up, and their catalog of products is extensive. Although their commissions are on the lower end of the spectrum and their cookie duration is short, it's a dominant shopping destination, especially in the United States, making it relatively easy to refer customers and earn money.
Some of the most lucrative affiliate programs require a bit more digging to find. Many companies offering affiliate programs use third-party affiliate marketing networks to run their programs, so signing up for a few can give you access to thousands of programs.
Here are the most prevalent affiliate marketing networks:
Most affiliate networks have baseline criteria for acceptance, so you won't be able to start earning the day you set up your website. However, the barrier to entry is relatively low, and Amazon's program is easy to join early on, so you can get up and running fairly quickly.
3.) Sell Digital Goods
Digital goods are products you create once that can be delivered online to an unlimited number of customers.
Here are examples of popular digital goods that people frequently sell while running an online business:
Ebooks
Courses
Templates
Guides
Challenges
Recipes
Audio files
Photos
Videos
Apps
Themes
Plugins
Presets
LUTs (color presets for video)
People who search online often look for products or solutions that help solve their problems or needs. In many cases, digital goods represent excellent opportunities to fulfill those needs.
Digital goods are popular because they're often inexpensive and relatively easy to make. For example, if you're running an online business, you can create a PDF that people can buy and follow to achieve a specific goal, such as running their first marathon.
Alternatively, if you're starting a business teaching people how to make pottery, you might create a five-part video course showing beginners how to get started and make their first mug.
The possibilities are endless. People are willing to buy digital products from skilled individuals, especially when those products help them save money or achieve their desired results faster and easier.
Of course, the people visiting your website need to be actively looking for information about the digital product you're selling, which makes picking a targeted niche for your business extra important.
It's also worth noting that you can sell many of the digital products you create through other online marketplaces in addition to your website. For example, if you're creating video courses, you can sell them online via Udemy or Skillshare, which helps expand your audience.
4.) Sell Physical Goods
Amazon and Etsy are glowing examples that people are more than willing to buy physical goods from independent creators and business owners across a seemingly endless range of product categories.
Like digital products, the possibilities are wide-ranging when creating physical goods you can sell to your audience. As long as you can fulfill a relevant need with a quality product that people are searching for online, there will likely be plenty of people willing to buy from you.
Although selling physical products online may require an upfront investment in design, manufacturing, and inventory, many products, as you've likely seen on Etsy, are made to order, reducing the barrier to entry. Selling basic merchandise to fans such as t-shirts, hats, and socks has become easy with companies like Spring, Sellfy, and Gemnote.
If you have a custom product in mind, you can even outsource its creation to countries, including China using a marketplace like Alibaba without any product design or development experience. Furthermore, companies like Shopify make it easier than ever to sell the products you create directly on your website.
Selling physical goods has become an increasingly popular way for online businesses to generate revenue with innovative solutions helping reduce the barrier to entry and simplify the entire process.
5.) Sell a Subscription
A subscription is purchased once by a customer and continually rebills at a set frequency, i.e., monthly, quarterly, or yearly.
Subscriptions can take various forms. Here are some popular ideas that are well-suited for online businesses.
Newsletters offering unique insight/expertise
Exclusive online communities
Access to a library of information or assets
Recurring services, i.e., fitness classes
Physical products that are purchased repeatedly can also make for fantastic subscription opportunities.
For example, if you created an online coffee business and started to roast coffee to sell, you could offer it as a subscription that you send to customers on a recurring basis. Once again, plenty of companies exist to make building subscription-based businesses easier, including Shopify, Sellfy, Gumroad, and Kajabi.
6.) Sell Leads
Many businesses require a continual flow of new leads to drive sales and are willing to pay for quality leads if you can provide them.
For example, a national tutoring company might be willing to pay for prospective customers looking for SAT prep. Likewise, a financial services company will be happy to speak to individuals visiting your website if they're there to learn about investing.
Here are a handful of top verticals where you'll find companies that are looking to buy leads:
Auto Finance/Insurance
Business to Business
Debt
Health Insurance
Home Improvement/Solar
Legal
Life Insurance
Mortgage
Student Loan
Tutoring
Although selling leads might not be a high-priority monetization opportunity for every online business, it's worth being aware of as it can be lucrative. Companies like Thumbtack have shown the potential to sell leads across a considerable number of service categories.
7.) Provide a Service
Many individuals who start online businesses are uniquely qualified to provide a service to individuals who visit their website. Once again, the opportunities are endless, but here are some ideas:
Accounting
Catering
Electrical work
Interior design
Law
Lawn care
Lessons
Life coaching
Nutrition
Photography
Plumbing
Tax prep
Tutoring
Web design
Web development
Wedding planning
Business owners can provide many of these services online, while others require a local presence. Either way, offering a service is an excellent way to monetize your online business.
Best of all, you can start offering this service to people visiting your business website on day one.
8.) Publish Sponsored Content
Companies go to great lengths to market and promote their products. One increasingly popular tactic is paying creators or influencers to talk about their products for a fee, i.e., sponsored content.
If you regularly publish content for your online business, you put yourself in a position to earn money from brands willing to pay you to create content on their behalf to reach your audience.
Generally speaking, the more visitors, email subscribers, or followers you have, the higher your earning potential. However, savvy marketers are often willing to pay a premium to reach a highly targeted niche that they think will be interested in their product or service.
Websites like Acorn Influence, Blog Meets Brand, TapInfluence, Izea, and Markerly, exist to connect companies willing to pay for sponsored content with creators. Those who develop a significant online presence will find that brands will even reach out to them directly.
9.) License Your Digital Assets
Photos, video footage, music, and sound effects are some of the most popular digital assets that business owners license online. However, you can extend the concept to any relevant idea you have.
A license enables users to purchase your digital asset and use it according to your terms. For example, if you fly drones professionally, you may have developed a library of stock footage that you'd be willing to let others use in their videos for a fee.
You can sell these assets through your website using various services, including SendOwl, Sellfy, and Gumroad. However, there are also marketplaces, such as iStock and Shutterstock, where you can license your digital assets to reach a wider audience.
10.) Host a Job Board
Many ideas for online businesses will have a corresponding job market that you can tap into and earn money from by allowing employers to post job opportunities on your website.
Employers are eager to post job descriptions on websites where they think they'll have the best chance of finding qualified candidates quickly. If your website caters to a group of people who have expertise in a given profession, then a job board has the potential to be an excellent fit.
For example, if you start an online business about nursing, you might create a job board where employers can post jobs to find candidates.
Best of all, there are pre-built job board applications that you can use, like WPJobBoard for WordPress, that make setting one up a breeze.
11.) Accept Donation or Tips
If the content you provide on your website offers significant value, then some visitors may be willing to make a donation or tip you for your efforts as a thank you.
On the surface, this might seem like an odd way to monetize your website, but it can work surprisingly well, especially if you have repeat visitors who appreciate your content.
Services like Buy Me a Coffee make accepting donations or tips easy for any online business. You'll only discover if it works by giving it a try.
12.) Build an Email List
Although you don't make money by building an email list, it can quickly become one of your most valuable assets for monetization.
The individuals on your list are usually loyal followers and are likely to take action and purchase once you develop a product to sell. To build a list, you need two things, visitors and something to offer them in exchange for their email. Here are a few popular ideas:
Newsletter
Guide
Template
Checklist
Resource list
We'll dive into list building in greater detail in the future, but for now, it's important to recognize that it's well worth your time and effort and is broadly applicable to every online business.
13.) Sell Your Niche Website
When you build a website for your online business, you're building an asset in a specific niche that increases in value over time as you generate more visitors and increase its revenue.
Although most people looking to build online businesses are more interested in monetization activities they can implement on their website, it's crucial to recognize that people are willing to buy established websites, which represents an opportunity to earn.
Some individuals start, build, and sell websites to make a living, so if you can become proficient at it, it's an excellent opportunity to earn money online. If that's not something you're into, you should still recognize that opportunity to sell your website if you ever decide to move on to something new.
Essential Business Idea Considerations
Although I subscribe to the notion that there are no bad ideas, especially when brainstorming an online business, it's undeniable that some are better than others. Here are a handful of factors to consider which will help ensure yours is the best it can be.
Interest
A great online business idea is one that you're genuinely interested in pursuing. It doesn't need to be something you're passionate about, but your idea needs to hold your attention.
Selecting a topic you enjoy might seem like a no-brainer, but many people who are attempting to build online businesses chase money and choose a topic that might pay well but they don't find interesting.
When building your online business, you will live and breathe the topic you choose, so if you don't enjoy it, you'll lose interest, burn out, and generally increase the likelihood of failure.
Expertise
It's not necessary to be an expert in the topic you choose for your business idea, but the more you know, the better. Your familiarity will reduce up-front research, help breed trust among your audience, and aid you in spotting opportunities.
For example, if you decided to start a business for dog training, it would be much easier to write an article on the topic if you have experience.
If you're unfamiliar with the idea you choose for your business, you can still find success if you have a strong interest in the topic, as your curiosity can fuel your motivation to learn. However, content creation will be more time-consuming and challenging.
Let's go back to the dog training example. Imagine you recently bought a dog but have never owned one before and want to start a business on the topic. It would require extensive research to write a quality piece of content on the subject, and you wouldn't have the experience to pull from to know that the methods you outline work.
With that said, don't shy away from ideas you lack experience with if they genuinely spark your interest, especially if you're starting your online business as a side project and learning is part of your goal. However, it's helpful to recognize that getting the business up and running may require more effort.
Audience Size
When building an online business, your potential audience size needs to be big enough to support your business's growth. Thankfully, as we'll cover in an upcoming section on validating your idea, there are ways we can check to gain a feel for how big an audience is before getting started.
Competition
The internet has matured to the extent that you'll see competition regardless of your business idea. However, some topics are less competitive, making it easier to break through and see results.
On the other hand, less competitive topics tend to have smaller audiences, making it challenging to grow, so it's a balance.
Generally, I'd encourage you to opt for a topic that's more rather than less competitive for two reasons. First, competition means that existing businesses are making money, which is a good signal. Second, you can still succeed in challenging subjects using the right strategies.
It's worth noting that the more competition, the longer it can take to begin seeing results, but the payoff is often more significant.
Selecting the Right Business Idea
Every idea you have for your business will have multiple tiers that you can target. Zoom out too far, and your business will lack the focus that enables you to draw in a loyal audience. Zoom in too far, and you'll constrain growth.
The more prominent the topic, the further down you'll be able to zoom in while maintaining a large enough audience. Smaller niches of interest may require you to zoom out a bit. Let's look at a few examples of large categories and the sub-topics that lie within them.
Arts
Visual Arts
Photography
Portrait Photography
Lifestyle Portrait Photography
Children's Lifestyle Portrait Photography
Tutoring
Online Tutoring
Online High School Tutoring
Online High School Math Tutoring
Online Algebra Tutoring
Online Algebra 1 Tutoring
Beauty
Fashion
Women's Fashion
Women's Fall Fashion
Women's Jackets
Women's Leather Jackets
Health
Fitness
Cardio
Running
Long Distance Running
Ultra-marathon Running
Food
Cooking
Home Cooking
Home Cooking Recipes
Quick Home Cooking Recipes
Quick Italian Home Cooking Recipes
Marketing
Digital Marketing
Advertising
SEM
Google Advertising
Google Image Advertising
It's possible to achieve success at virtually any level. However, you can likely start to imagine the number of people you'll be able to appeal to online will dwindle the further you drill into a category.
On the other hand, hopefully, you can gain a sense of how higher-level categories would make it challenging to appeal to a specific audience that will be eager to hear more from you regularly.
However, rather than guess at the right level of specificity for your idea, we can use data to inform your decision, as we'll discuss next.
Validating Your Business Idea
Once you've narrowed down an idea that you feel is worth pursuing, you'll want to spend some time validating it before jumping in and getting started building your online business.
More specifically, you want to gain a sense of your earning potential, audience size, and competition.
Step 1: Gauging Earning Potential
As we reviewed in this article, various methods for monetizing an online business exist. However, two of the easiest ways to start monetizing a new website are by running ads and participating in affiliate programs, so we'll dive into those individually.
Ad Revenue Potential
Adsense is a popular platform business owners use to run website ads, so I've pulled data from their revenue calculator using North America as the region for website visitors.
The following table outlines earning potential when running ads on your business's website per category. You can scroll left to right to see the entire data set.
There are a few things to keep in mind regarding this data. First, Google doesn't guarantee or commit that you'll earn these amounts if you run ads using their platform – they're estimates. Actual revenue depends on many factors, such as advertiser demand, user location, user device, content vertical, seasonality, ad size, and currency exchange rates.
That said, Google Adsense is one of the lowest-paying-ad services. Other companies like AdThrive and Mediavine can deliver significantly better earnings but have minimum traffic requirements. AdThrive requires 100,000 monthly pageviews, while Mediavine requires 50,000, so you'll have to wait until you hit those thresholds until you can use them. For new websites, Ezoic is also an excellent option.
If your business idea isn't in the above table, you can reference the category that closely matches yours for a ballpark estimate. Don't get discouraged if your idea falls into a lower-paying category, as ad revenue is only one monetization method.
The most important thing is that you're roughly aware of what you can expect to earn and that your idea influences earning potential.
Affiliate Revenue Potential
Joining affiliate programs and linking to or promoting products and services from other companies is another relatively easy way to earn money for your business online.
As it relates to your business idea, it's worth checking ahead of time whether or not there are relevant affiliate programs available for you to participate in to earn affiliate commissions.
Let's use 'photography' as an example business idea. Use the following phrases to perform a search on Google.
Search Phrase: [business idea] affiliate programs
Example: photography affiliate programs
Doing that search, you'll hopefully come up with a handful of affiliate programs you could participate in to earn money. Here are a few for photography and applicable commission rates.
You can also try browsing your favorite websites related to your business topic and seeing if they offer affiliate programs. Companies will often link to them in the footer of their website.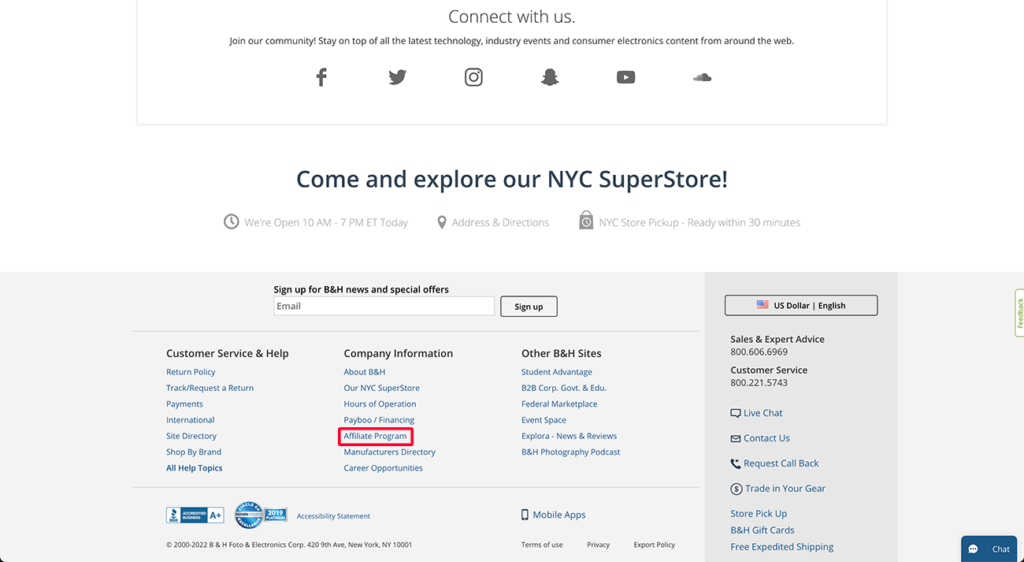 The goal here isn't to uncover every relevant affiliate program. Instead, you're simply looking to confirm there is a handful that you can use to generate additional revenue for your business.
Most online businesses can use Amazon's affiliate program at a minimum. However, if you come up empty-handed on additional options, you may want to consider a different idea for your business.
Step 2: Measure Audience Size & Competition
Content is the lifeblood of successful online businesses, so before you invest your time and energy in creating it, it pays to check how many people are searching online across a broad set of relevant keywords.
You'll also want to gain a rough understanding of the competitive landscape for your business.
Develop a Keyword List
To gain a feel for your potential audience size and competition, you'll develop a list of 10 phrases that people might be researching online relating to your business idea. Then you'll check how many people search these phrases on Google each month using a tool called Semrush, which offers a seven-day free trial.
To develop your keyword list, start by thinking of five informational sub-topics that apply to your business idea. Here are examples using 'photography' as our main topic.
Sub-topic 1: photography lighting
Sub-topic 2: camera settings
Sub-topic 3: photography composition
Sub-topic 4: photo editing
Sub-topic 5: photoshop tutorials
If you're struggling to think of sub-topics, visit your favorite website that discusses the idea you have for your business and browse the areas their website covers. Pay close attention to their menu navigation, which companies use to categorize their website's content.
If you don't have a favorite website on the topic or niche you'd like to pursue, head to Google and search using the following phrases:
Learn [business idea], i.e., learn photography
[Business idea] blogs, i.e., photography blogs
Browse a handful of websites that emphasize helping people learn how to become proficient in the idea you have for your business. In this case, you'd search for websites teaching people about photography, such as Photography Life, which is an excellent example.
Next, come up with a list of five popular products that relate to your business idea. Here's a sample list using photography.
Product 1: photography cameras
Product 2: camera lenses
Product 3: photography lights
Product 4: camera bags
Product 5: camera tripods
If you're struggling to think of a list of relevant products, head over to a popular shopping website that relates to your business idea and browse the categories of products they offer. B&H photo is a fantastic example of the type of site you'd be looking to explore.
At this point, you should have your business idea and a list of ten phrases that closely relate to your topic.
Research Audience Size & Competition
Now that your keywords or phrases are ready to go, we can gather high-level audience and competition data for them.
Head to Semrush and sign up for a free seven-day trial of their Pro plan. If you're opposed to signing up for a trial, you can skip it during sign-up, and they'll allow you to perform ten keyword searches a day.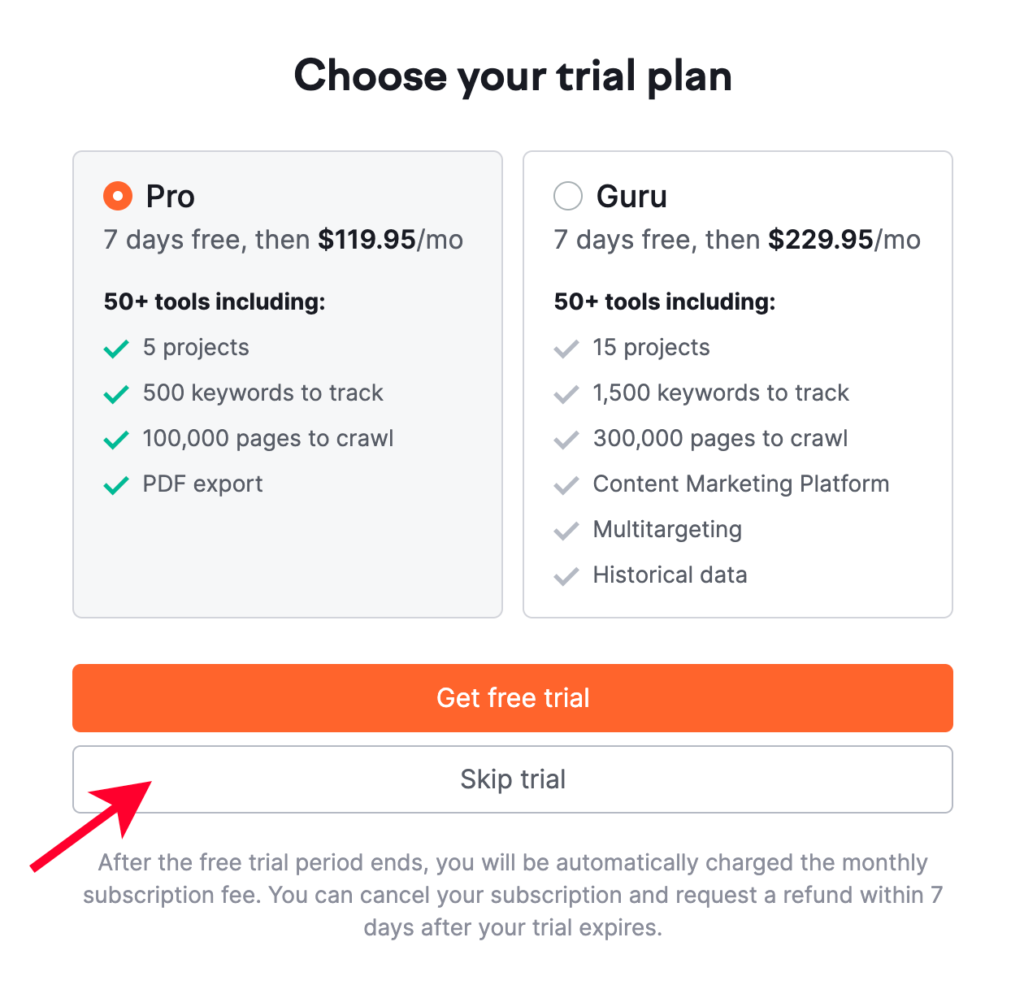 Once logged into your account, you'll want to browse to their 'Keyword Magic Tool,' which you can access through their left-hand navigation.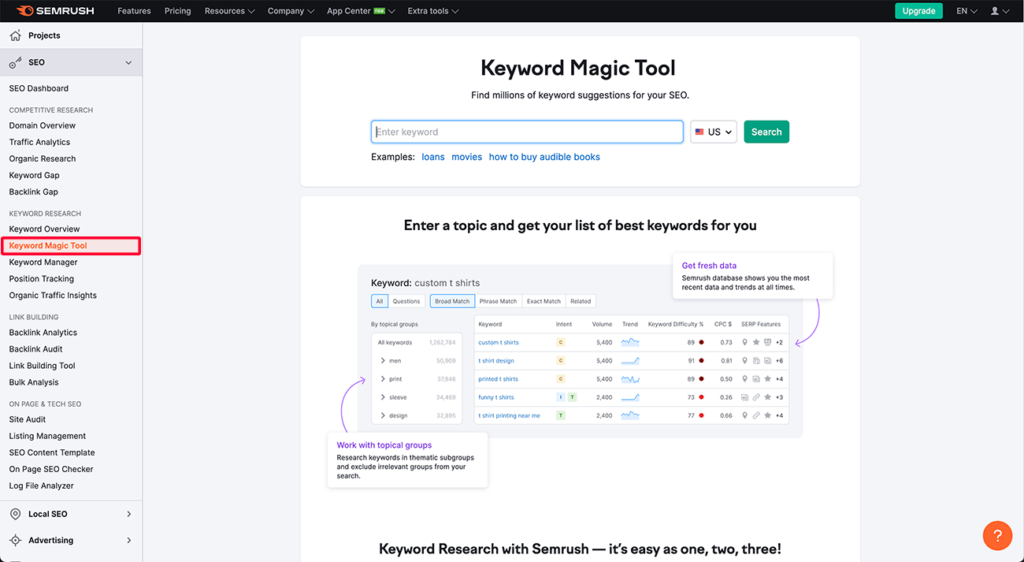 Start by entering your business idea. Continuing with our photography example, you'd enter 'photography,' then click search. On the next screen, Semrush will present a list of keywords organized by 'Volume,' which represents the average number of monthly searches.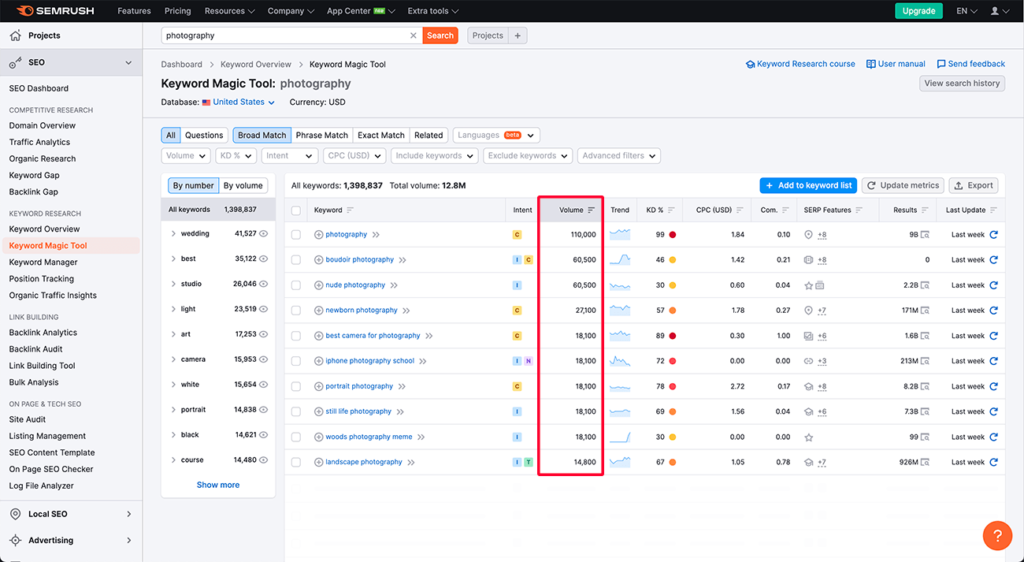 Make sure 'United States' is selected for the 'Database.' I'm assuming you read, write, and speak English, so we want to see data for the most active English-speaking country, the United States, so it's still relevant even if you don't live there.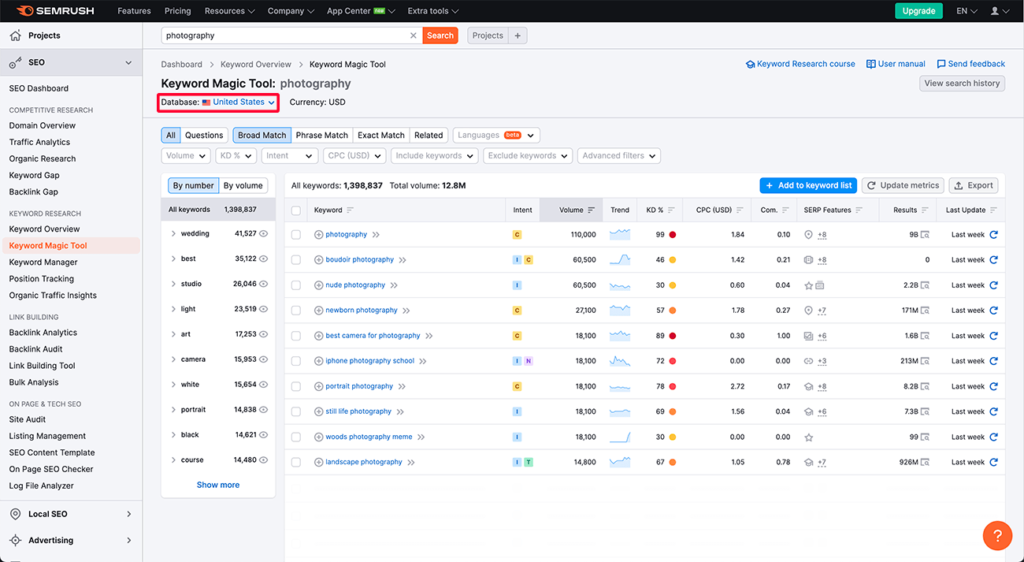 Keep in mind that if you live in another English-speaking country, such as the United Kingdom, Canada, or Australia, your website and online business will see many visitors from the United States.
To the right of the 'Volume,' you'll see a column labeled 'KD %,' a score that represents 'Keyword Difficulty' or roughly how competitive that particular keyword is online.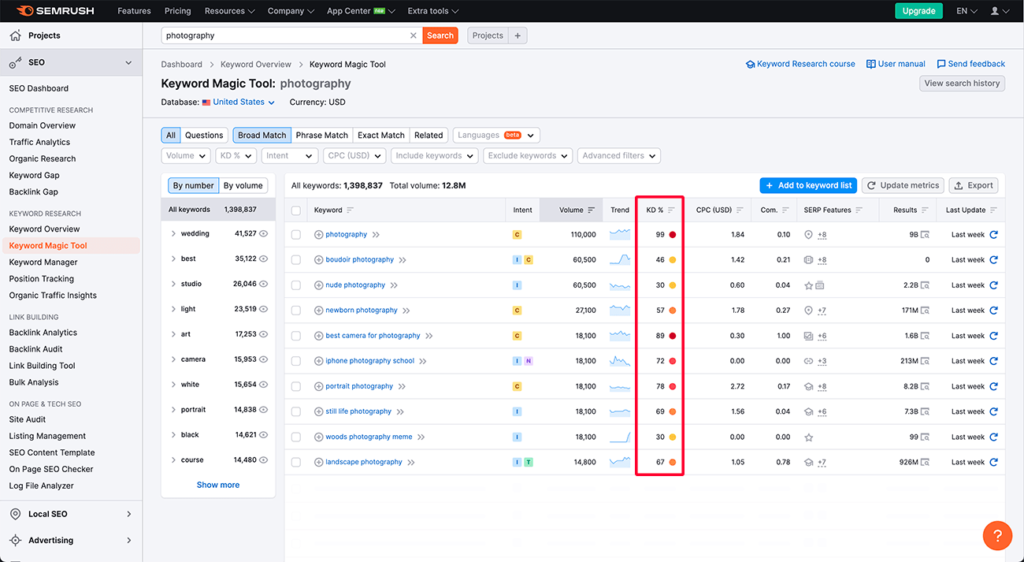 Take note of the keyword you entered along with its volume and keyword difficulty score. Then repeat your search for the remaining keywords you came up with in the previous section.
In some cases, you may find a different, but related keyword shows up at the top of the list. If that's the case, take note of that new keyword instead of the one you came up with and log its volume and keyword difficulty score. I've included an example below.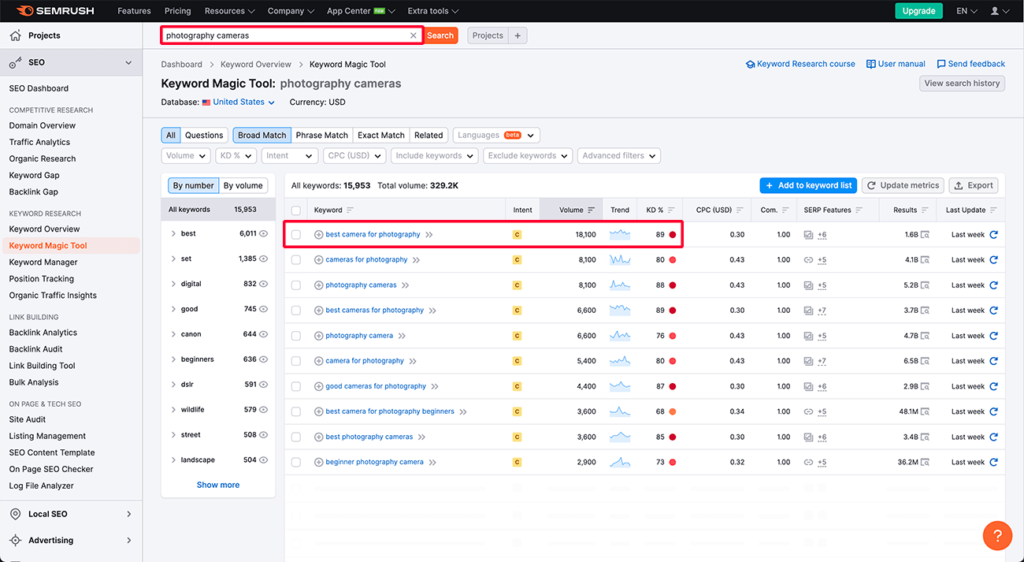 Once finished, you should have a list of all your keywords and their respective volume and keyword difficulty scores. Here's what I came up with using our photography example.
*My original keywords for these were 'photography composition' and 'photography cameras,' but when I searched them in Semrush, 'composition photography' and 'best camera for photography' displayed at the top of the list with higher volume. Both are still highly relevant, so I used them instead.
With this data, you can begin to glean how roughly many people are interested in the topic you chose and its competition. Remember, we're looking for high-level information at this stage, not specifics.
Volume, a.k.a, Audience Size
Generally, you'd hope to see, at a minimum, a total volume of 50,000. If it's less, you have two options.
Option 1: Swap out low-volume keywords in your list for new keywords to see if you can get the total volume up to 50,000.
Option 2: Zoom out on your business idea or topic to see if there is more volume by taking a broader approach. If you do this, you'll create a new keyword list that you run through Semrush to find out if you can exceed the 50,000 total volume threshold.
If neither of these work, you'll want to reconsider your business idea as you're likely targeting a niche that's too small to allow for growth.
In the case of our photography example, there is plenty of search volume that will allow us to grow our website steadily over time.
Competition
Regarding competition, your keyword difficulty scores should ideally fall at or below 80. If most are higher, the topic you chose for your business is highly competitive, which will make it challenging to break through and see results in a reasonable time frame.
Here's what those keyword difficulty scores represent from a competitive standpoint.
0-14: Very Low Competition
15-29: Low Competition
30-49: Moderate Competition
50-69: Strong Competition
70-84: High Competition
85-100: Extreme Competition
In most cases, competition is a good thing. If you have a few that are 80 and above, that's fine, as there are ways to break through the competition in these areas. However, if competition is stiff across the board, you'll likely want to reconsider your business idea.
In our photography example, competition is solid, but it's not overwhelming, so this would be an interesting business idea.
Step 3: Deciding on Your Idea
If you've completed steps one and two for validating your business idea, you should start gaining a clear picture of its potential, which you can use to determine if it's worth pursuing.
Ultimately, you want to target a business idea with solid initial revenue generation opportunities through ads and affiliate programs, a large enough prospective audience, and moderate but not overwhelming competition that will allow you to break through the noise.
Unfortunately, no idea will be cut and dry. Some topics will have excellent revenue generation opportunities, but they'll be highly competitive. Others will have huge audience sizes with lower earning potential, so you'll need to use your best judgment. To help, here are a few thoughts on common scenarios that might arise.
Ad & Affiliate Revenue Potential is Low
As we've covered, there are plenty of other ways to monetize an audience. It's not a dealbreaker if ad and affiliate revenue opportunities are low as long as your audience is large enough and the competition isn't too stiff. However, you should reconsider your idea if there's also high competition.
Your Audience is Too Small
If you're concerned that your audience size is too small, I'd encourage you to zoom out slightly with your idea and air on the side of a larger potential audience that allows for plenty of growth.
For example, suppose you were really into guitar strings and wanted to start a business that focuses exclusively on them. If your audience looks too small, you might consider expanding your idea to include all guitar accessories. Or perhaps instead of crocheting, you might broaden to needlework if the data shows crocheting is too narrow.
Competition is Too High
You should reconsider your idea if your keyword competition scores in Semrush are consistently 80 or higher. Otherwise, you should be in good shape. Remember, mild to moderate competition signals that other businesses are making money.
If your data shows that your business idea is highly competitive, you might consider getting more specific with your topic. Specificity tends to reduce competition, so that can help you find a sweet spot, but keep in mind that it will also reduce volume.
Overall, it's worth reiterating that you should genuinely be interested in your idea, ideally with some experience. If that's the case and you're persistent in your efforts to grow your business, then you can find success over time with virtually any idea and the right strategy.
If you're struggling with your idea and unsure if it's worth pursuing, feel free to post a question in the comments. I'd be happy to help.
Where to Next
Once you select and validate your business idea, the next step in my roadmap for starting an online business is to set up your website. In my next article, I'll walk you through building up a website from scratch with step-by-step instructions, so you don't get lost.
If you'd like to be one of the first to know when I publish my next article, you can enter your name and email below, and I'll send you a note when it's live. Thanks for stopping by!
PS – I hate spam, and I'll never abuse my privilege to communicate with you. Plus, I take your privacy very seriously and will not share or sell your email to anyone. I promise.
Can I Ask a Quick Favor?
Your feedback is invaluable. After reading this article, do you feel you understand how to select and validate an online business idea? If not, where are you struggling, and is there anything I can clarify to help improve this article for future readers?
Please post a comment below to share your thoughts.
Photo Credit @absolutvision